Vision:
To articulate contemporary India through incredible art rooted in Indian ethos.
Mission:
Aligned with CSR mandates Dolna will advance arts steeped in Indian ethos and widen the horizon for art, artists and audiences.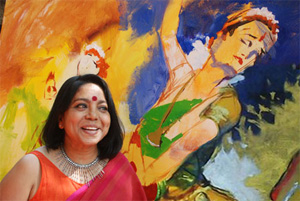 Mithu Basu
Curator & Founder Dolna:
Prior to her current foray as Artrepreneur she was General Manager, Corporate Communications for close to a decade with The Leela Palaces, Hotels and Resorts. Mithu Basu has always been an art lover and a strong advocate for arts. A destined residential stint at Santiniketan (Tagore's venerated art institution) drew her attention to; the wealth of unsung talent, lack of travel and exposure opportunities, the potential of untapped audiences. An artist herself, she was sensitive to understand the value of exposure and opportunities in the growth and development of artists. Convinced to be the change she wanted to see, Mithu founded her innovative art enterprise Dolna. A platform that puts to good use her accrued skills over the years. Networking, writing, communicating, ideating, painting all for the benefit of taking Indian art forward.