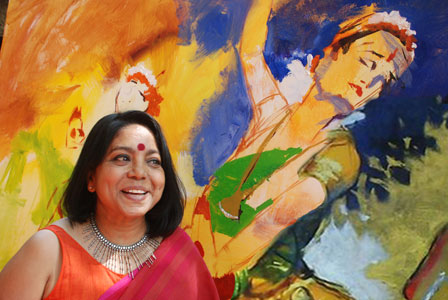 Mithu Basu
Curator & Founder
Dolna

Mithu Basu has always been an art lover and a strong advocate for the arts. A destined...click here to read more. About Dolna

Dolna the brainchild of Mithu Basu, founded in July 2010 is an online gallery for contemporary art and more importantly a unique art movement to mobilize exposure and create the required environment for artists to travel, flourish and grow. For the movement to gain momentum, support from corporates, institutions and individuals is the crux. In a world yet to feed and educate its entire people, supporting art may seem an indulgence and yet people who matter know that the arts are not "frills." They are an integral part of our development as individuals and as a community.

The sponsorship driven movement aligns with marketing and CSR mandates to advance the arts and support pertinent social causes. Every Dolna event will commit to offer platforms to artists and extend financial and non-financial support to verified and reputed NGO partners. Let Art, Business and Cause fuel the movement for a better world, thereby position art as integral to mainstream life and a viable career option for artists.